Giggleometer
Shanty Mask
Baggy Crossword
Limerick Challenge
Kevin's Crossword
word puzzles
Proposed Baggy Merchandise!!
Giggleometer
Baggyrinkle Stereoscopic 
Giggleometer.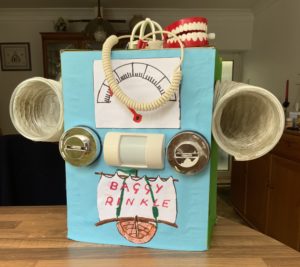 The giggleometer is fully stereoscopic with two high performance laugh receptors fitted at a level compatible with most size chuckle muscles. Although free standing it has shoulder straps and a tonsilar bracket and can be fully integrated using the patented "Gobsticker" function which has been fully passed by our resident medical advisor.
It has full range measurement from titter up to hysterics with an overload system unique to any other systems.
Measurements are reported in the new standard British unit of noise the baggyrinkle (baggy) 1 baggy = 20 decibels)
It comes complete with a pair of stereo calibrators and has a low level sensitivity that is even capable of detecting a grin.
Set up procedures are simple but if you have problems reading joined up writing you can contact Dave our technical manager for expert advice.
It is fully portable and comes with it's own carrying case and stand and can be set up in pubs halls lighthouses ships trains in fact anywhere that you may be required to sing.
It complies with recent EU laughter regulations as negotiated by our expert joker Boris and is available from our Welsh laughter factory and subsidiaries in France and New Zealand.
Baggyrinkle is a limited company (limited only by age and ability) For orders please contact our company secretary at our Birchgrove headquarters.
Shanty Mask
Baggy Crossword
Limerick Challenge
Kevin's Crossword
word puzzles
Proposed Baggy Merchandise!!