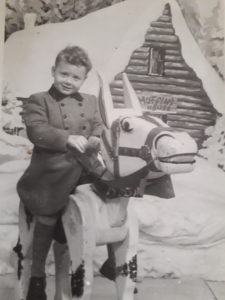 Dr Kevin Howcroft is a most welcome addition to the Baggies and with Kevin, we now added a medical practitioner to our clinical team of nurse, medical laboratory scientist, and NHS manager! As a doctor of course Kevin had, like all doctors, promised to "do no harm" so he had to wait for retirement before joining Baggyrinkle. The product of a Scots mother and a Yorkshire father, he retains many of the features of his parents – a liking for Scotch and an inability to have any cash when the bar has opened.  As the most serious-minded Baggy, a lot of the shenanigans go over Kevin's head however he adds a totally different humour to the group, and we wouldn't be without him!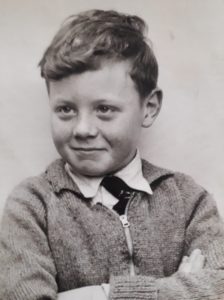 He was born in Hazelwood Castle Tadcaster and as a good catholic he was also an altar boy. Raised to the sounds of Uncle Mac and Billy Cotton he had his first guitar, a six Five Special at the tender age of 5, moving onto his first adult guitar at 11, just in time for all the 60's. He plays a wide range of instruments most of which require fingers – which luckily, he has. He can pluck and also squeeze while plucking, and he can blow too when required. (Over the years he has impressed a number of musical women with his timing and dexterity.)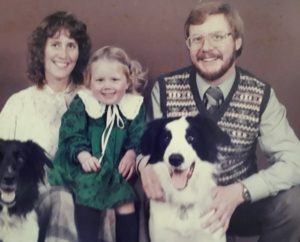 Kevin learned medicine at Bristol medical school spending lots of time listening to jazz at The Old Duke and playing guitar and singing in the local folk clubs.
He moved into General Practice to tend to the multiple needs of a local community- in his case Telford, then Clun and Knighton.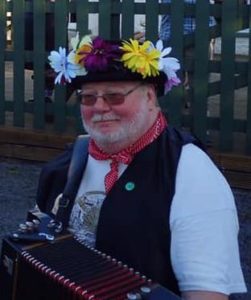 He has travelled widely.  Baggyrinkle wonder which instrument he tried whilst on one of his many skiing holidays…  
He is a keen motorcyclist but wisely does not now straddle his bike whilst playing his accordion. Kevin has two children and grandchildren and now lives on the seafront in Aberavon. He joined Men of Sweyn's Ey, Swansea's Morris Group and he sings and plays in multiple bands, all with strange names.  Of course Baggyrinkle is his Favourite!