After embarking on a career in medical science he was prevailed upon to spend two years fighting for King and country in the Guinness infested swamps of Ulster. Shortly after returning from overseas (well Northern Ireland is overseas!) he started attending local folk clubs. In those halcyon days of the folk revival, within 20 miles of Swansea, it was possible to visit a different folk club almost every night of the week. I suppose he would have been quite happy to continue as an audient to this day, but for one unguarded moment at a singer's night in the Valley Folk Club at the Dynevor Arms, Pontardawe. Whilst he was in the bog, his wife promised his services to pad out what was going to be a somewhat short second half, and here's some advice for the would-be folk audient:-
1. Don't let your wife hear you sing folk songs in the bath
2. Don't leave your lady alone when the MC is looking for singers.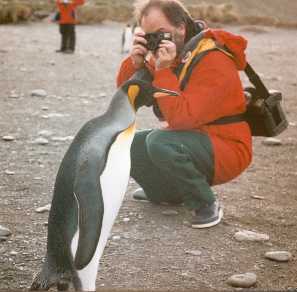 Ken was born at a very early age just before the beginning of World War. After two severe altercations with Hitler he was allowed to grow up to become the chubby little four year old you see on the right (get a load of the satin shirt with the pearl buttons). His first venture into show business was with his father at the tender age of six, entertaining wounded POW's (though this might not count as he had a captive audience).
It was in the grammar school choir that his many talents were first noted, unfortunately singing wasn't one of them. So he joined a skiffle group (no need for musical talent there!) and played at a local dance hall for some years.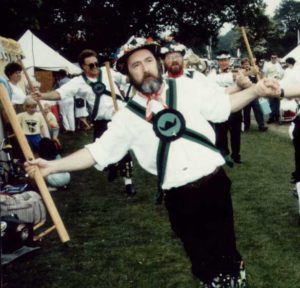 Since that first song he has gained an extensive knowledge of folk songs (from helping Dave Robinson to remember the words!) and has sung with two of Swansea's best known  (well only) shanty groups, Motley Crew and Baggyrinkle.
Ken also dances with Men of Sweyn's Ey morris side. He says he enjoys the camaraderie, needs the exercise and likes to keep the tradition live. We think he just likes wearing white stockings and a flowery hat !!
Since retiring after 42 years working in the Health Service, he and his wife Gwen have travelled to remote parts of the world photographing wildlife. He has visited every continent including Antarctica, swum with sharks in Galapagos, been snotted on by Humpback whales in Canada, chased by elephants and rhinos in Africa and also claims to have walked around 'Cape Horn'.
Fame has not changed him; he remains the same quiet, loveable, retiring, modest person he has always been!