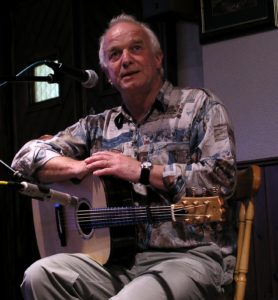 Like the rest of the world's population, Dave was born.  His birth however did not go unnoticed as only months later Hitler committed suicide. His life changed when at 15 he left school and realized that school days were definitely not the best days of your life. 
When Dave started work in 1960, jobs were in abundance and for a few years he went from job to job.  Until whilst working in a bar he met Colin ,who became a lifelong friend.  Colin helped him get a job in the jewellery trade where he trained to be a diamond mounter.  Dave  spent the next 20 odd years making bespoke jewellery.  However, he ended his working life enabling people with learning difficulties to experience their full potential.   He did this by running a project that offered both work and volunteering opportunities.  This was a period of his life that gave him immense satisfaction.
His interest in music started in the early 60s and coincided with the folk revival .  In Birmingham then you were able to visit a different folk club almost every night.  Dave started playing guitar and singing.  He was offered a residency in a folk club called the Skillet Pot which was run by Mick Hipkiss.  Mick and Dave formed a duo and performed in many clubs around the country.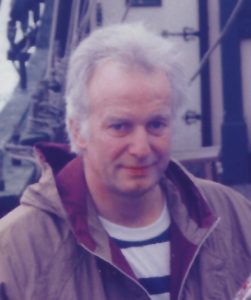 He produced two CDs. "Better Late Than Never" a CD of mainly covers, then  "Friends, Family, Love and War" a CD of self penned songs which sold in it's 10s.
About 10 years ago Baggyrinkle asked Dave to join them and he has never looked back (He's never looked forward either).  As the prettiest member of the group, and having a sweet and soulful voice, he is often chosen to sing songs that have a more feminine side. (Especially if he can wear a skirt while doing it). It is often said at group meetings when Dave is absent "How could the Baggies  manage without him."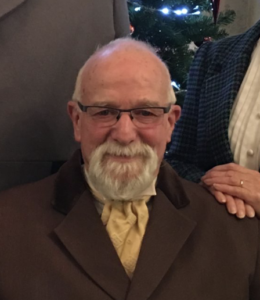 Despite the fact that Dave's encyclopedic knowledge of shanties could, if necessary, be written in block capitals on the reverse of a postage stamp, and that he spends half of his time in Brittany, he remains a strong link in the anchor chain that is Baggyrinkle.   (Or is that something that stops the sails chafing?)
For more information on Dave's career please contact the criminal records department  New Scotland Yard.